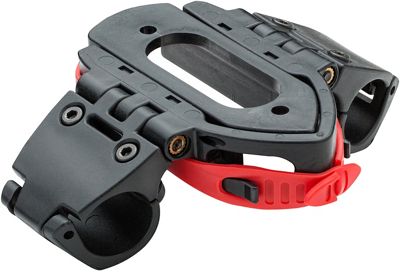 Profile Design Aerodrink BTA Bracket Constructed from an injected nylon/glass fibre, this easy to install bracket features bolt-on adjustable wings which adapt to various width extensions while always maintaining a secure fit. Installation and removal are hassle free due to the durable silicone restraining strap and it's designed to work with any Profile Design system BTA bottles. Features: Material: Injected nylon/glass fiber construction Compatibility: FC25, FC35, Aero HC, Standard Bottle Cage, Aerodrink, AqualiteExtension Width Requirement: 65mm - 140mm (Centre to Centre) Weight: 130g Buy Profile Design Accessories from Chain Reaction Cycles, the World's Largest Online Bike Store.
Prezzo per: Profile Design Aerodrink BTA Bracket - nero, nero
In vendita presso: ChainReactionCycles
Categoria: Cycling

Prezzo:
da
ChainReactionCycles
Brand : Profile Design
Altri utenti hanno acquistato anche :

Prezzo più basso trovato tra: Profile Design Aerobar Bracket Riser Kit - nero, nero Profile Design Aeria EVO Bracket Kit - nero, nero
Miglior prezzo in offerta da : ChainReactionCycles
Categoria negoziante: Cycling
Brand : Profile Design
iltuocomparatore è un motore di comparazione prezzi che confronta milioni di prodotti online per offrire all'utente finale
il miglior prezzo conveniente sul mercato. Semplice sicuro e affidabile.
Iltuocomparatore non è responsabile delle informazioni presenti su questo sito, in quanto reperite dai siti dei venditori.
Le immagini grafiche e i marchi presenti su questo sito sono di proprietà dei rispettivi proprietari.
Progetto nato su iniziativa di Informatica Store di Francesco Tamburrino P.Iva 01757500762