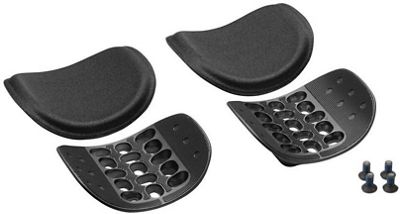 Profile Design Ergo Injected Armrest Kit Ready for fast-paced road-racing, this brilliant kit is designed to deliver excellent comfort and a perfect fit. Smoothly curved, the armrest's shape cups your elbows while providing efficient support and control. Coming equipped with a bolt pattern which allows for up to 48 possible configurations just by moving the armrest, this is a perfect choice of upgrade for riders who want to fine-tune your riding position.Features: Armrest Material: Injected Nylon and Glass Fibre Pad Material: EVA foam with anti-bacterial and anti-microbial Lycra cover Use: Road Compatibility: Profile Design Ergo aerobars with use the F-19, F-22, F-35 or F-40 armrests Pad Model: 10mm Hardware: M6x10 FHB Weight: 145g (approx)Buy Profile Design Components from Chain Reaction Cycles, the World's Largest Online Bike Store.
Prezzo per: Profile Design Ergo Injected Armrest Kit - nero, nero
In vendita presso: ChainReactionCycles
Categoria: Cycling

Prezzo:
da
ChainReactionCycles
Brand : Profile Design
Altri utenti hanno acquistato anche :

Prezzo più basso trovato tra: Profile Design Race Injected Armrest Kit - nero, nero Profile Design Race and Ergo Pad Kit - nero - 10mm, nero
Miglior prezzo in offerta da : ChainReactionCycles
Categoria negoziante: Cycling
Brand : Profile Design
iltuocomparatore è un motore di comparazione prezzi che confronta milioni di prodotti online per offrire all'utente finale
il miglior prezzo conveniente sul mercato. Semplice sicuro e affidabile.
Iltuocomparatore non è responsabile delle informazioni presenti su questo sito, in quanto reperite dai siti dei venditori.
Le immagini grafiche e i marchi presenti su questo sito sono di proprietà dei rispettivi proprietari.
Progetto nato su iniziativa di Informatica Store di Francesco Tamburrino P.Iva 01757500762