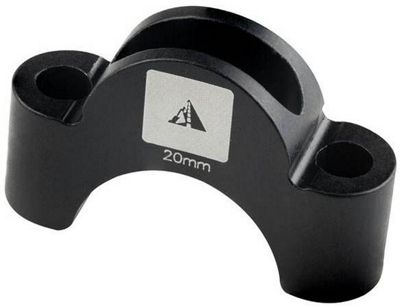 Profile Design Riser KitProviding you with amazing comfort and control, this brilliant riser kit enables you to find your perfect handlebar height. This means you can take up a dominant riding position on every run and travel with power and poise towards the podium. Coming equipped with an incredibly tough forged and machined alloy body construction, this is an ideal component for handling all the challenges that come with a long day out on the road.Features: Body Material: Forged and machined Alloy Bolt Material: Marine grade Steel Compatibility: Profile Design Sonic Ergo (35a, 45/25a and 50a), Supersonic Ergo (35a, 45/25a and 50a) and T+ Carbon Series, T+ Aluminium Series aerobarsBuy Profile Design Components from Chain Reaction Cycles, the World's Largest Online Bike Store.
Prezzo per: Profile Design Riser Kit - nero - 70mm, nero
In vendita presso: ChainReactionCycles
Categoria: Cycling

Prezzo:
da
ChainReactionCycles
Brand : Profile Design
Altri utenti hanno acquistato anche :

Prezzo più basso trovato tra: Profile Design Aerobar Bracket Riser Kit - nero, nero Profile Design Riser Kit - nero - 20mm, nero
Miglior prezzo in offerta da : ChainReactionCycles
Categoria negoziante: Cycling
Brand : Profile Design
iltuocomparatore è un motore di comparazione prezzi che confronta milioni di prodotti online per offrire all'utente finale
il miglior prezzo conveniente sul mercato. Semplice sicuro e affidabile.
Iltuocomparatore non è responsabile delle informazioni presenti su questo sito, in quanto reperite dai siti dei venditori.
Le immagini grafiche e i marchi presenti su questo sito sono di proprietà dei rispettivi proprietari.
Progetto nato su iniziativa di Informatica Store di Francesco Tamburrino P.Iva 01757500762